Log Houses
Mountain Loghome produces pre-fabricated log houses from natural massive logs and laminated logs. We mainly use squared timber and D-profiles. We produce custom-made machine milled round logs as well.
Massive log is pleasantly natural and beautiful but also the distinctive features of wood must be taken into account. Laminated log is steadier – there is less deformation and less cracks when the log dries.
Selection of the log profile depends on the type and purpose of the house. Use of thinner log profile with additional thermal insulation has become very popular. The log house can be insulated internally as well as externally.
We provide wide range of different log thicknesses and log profiles. Thickness of massive logs is from 70 mm to 152 mm, thickness of laminated logs is from 88 mm to 204 mm.
We also produce different types of corner joints: classical cross-corner, mitered or dovetail joint and "city corner" called also a short cross-corner.
The log part of the houses we produce can be assembled instantly – the logs are grooved, tenoned and numbered. The delivery kit includes necessary assembly accessories – hidden tenon sticks, connecting posts, threaded lathes for external corners, thermal insulation to be added in between the logs and around the tenons.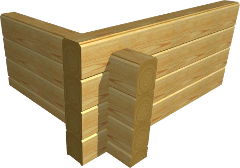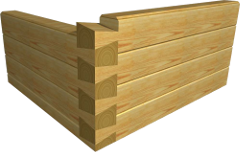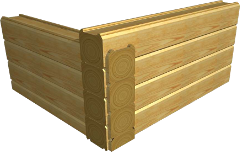 Selection of standard log profiles
Massive log profiles
Laminated log profiles
* We also provide alternative custom-made wall thicknesses and profiles. The factory is capable to produce the wall log to the thickness of up to 240 mm.